Back to Articles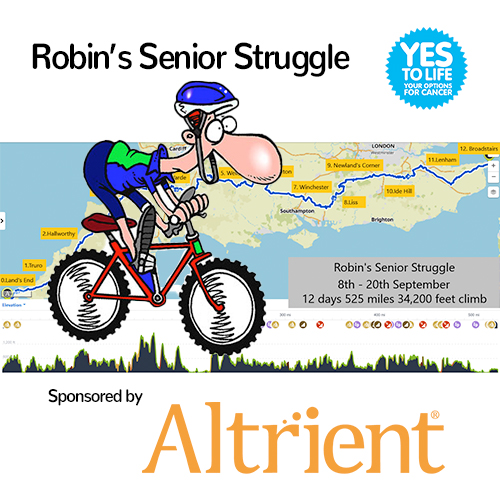 Robin's Senior Challenge
Hello Gang!
Last year was a challenging year for many for obvious reasons; our health suffered as we were put in the queue behind Covid patients, which meant missed screenings, less check-ups and many treatments postponed or cancelled. I really hope the #catchupwithcancer campaign gains more traction.
The financial impact also meant reduced donations to important charities. Whilst I am not a fan of the likes of Cancer Research UK who continue to ignore and appear to quash research into old drugs like statins e.g. the statin lung cancer trial using pravastatin, the most hydrophilic (water loving) statin, despite all the research pointing to lipophilic (fat loving) statins such as atorvastatin, simvastatin and lovastatin. They knew these facts, it was obviously doomed to fail. I fear the current ivermectin trial for Covid in Oxford using too little and too late is also headed for a similar fate.
For an ethical company that truly has your best interests at heart, I have always supported Yes to Life. This cancer charity was founded by Robin Daly 15 years ago after the death of his beloved daughter Bryony. For years it has steadfastly been there to support patients with integrative decisions but it desperately need funds right now. So, aided and abetted by his trusty (and scarily fit) biking neighbour Rob Dunn, Robin has a route planned and a date in the diary: starting 8th September, they're going to ride from Lands' End to the North Foreland Lighthouse near Broadstairs, on the easternmost tip of Kent, keeping off road as far as possible – 525 miles over 12 days, including climbs that add up to slightly more than the height of Everest! This will be done just after his 70th birthday.
Robin has never taken on a bike ride quite so challenging and, for his age, he knows this is going to be 'interesting'. So, to make all the angst thoroughly worthwhile, he has set a fundraising target of three times more than he has ever raised before: £25,000!
Read more about the ways in which they help people with cancer in their 2020-21 Impact Report.
Please consider a donation of £5-£10 (or more!) which will help someone less fortunate than many of you. I have given several talks to raise money for Yes To Life in the past and I can assure you the work they are doing is truly excellent. Smash the piggy bank and make a donation here: https://www.justgiving.com/fundraising/RobinsSeniorStruggle
Watch out on the Yes to Life FaceBook page for entertaining and regular updates on the thrills and spills of the trail.
This was an interview I did with Robin earlier in the summer:
https://yestolife.org.uk/radio_shows/starve-then-kill/
In my next newsletter I will discuss the metabolic rewiring that happens during chemo, so stay tuned!
*LEARN* LIVE AND LOVE,
Jane xx
#H2SC #womanonamission
P.P.S. Please do follow me on Facebook Twitter YouTube and Instagram; And please retweet, like and share posts whenever you can as FB rarely lets me promote either my book or my online course. Changing the current woeful standard of care requires a Herculean effort, but together I believe we can do it! Thank you!